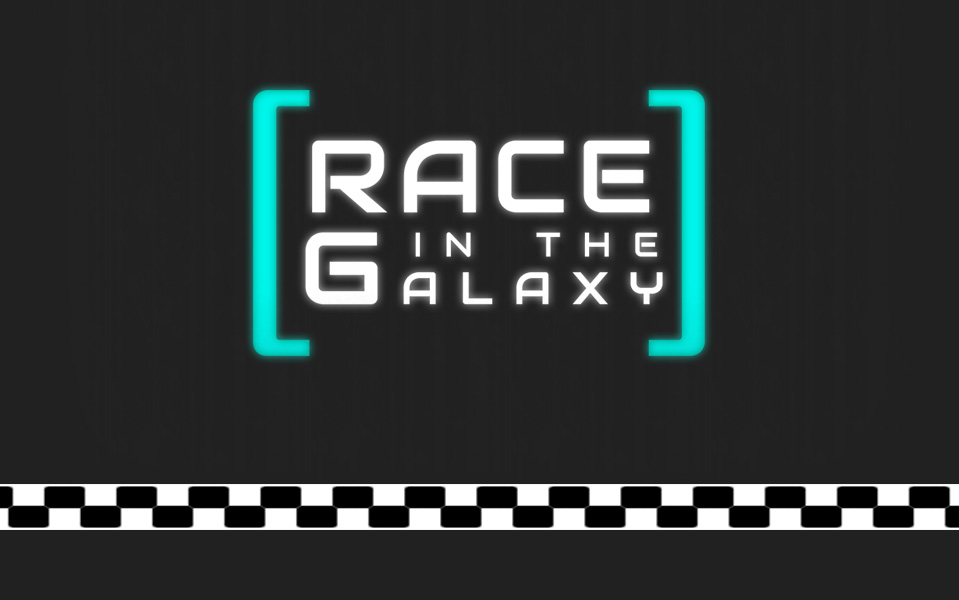 RITG: Race In The Galaxy
A downloadable game for Windows
This game is on early development stage

---
---
What follows is the vision for the complete game:


Have you ever imagined what would be like a Formula One championship a thousand years from now? This is the main premise behind the RITG story.
Instead of Austria GP, we have Mars GP. But the space travel is so advanced that the human race reached all the galaxy. A new championship was made where every year the best pilots of the galaxy are gathered on a huge spaceship.
This spaceship holds all the team manufacturers, staff people, pilots, journalists, and so on. It is like a city that moves from planet to planet every other week.
It is in this context that all the game events happens. There will be events occurring while you are on the ship. Industrial spies, saboteurs, and all that.
Every year the planets participating on the championship changes. The pilots never know what challenges expects them. (You can keep playing after finishing the championship)
Welcome to the Race In The Galaxy Championship.


TLDR; read the bold text.
The game can be divided into 2 parts: Inside and outside the cockpit.
You will start your campaign creating your character. You will choose a name and appearance.
This character is not famous (yet), so you have to prove yourself on a minor championship (tutorial) in order to get attention from the big teams on the RITG.
(you can always skip the tutorial and go directly to the team choosing part)

In each new game, the teams will have different names, colors, logos, preferred car, and technology level. Depending on your difficulty settings, you will get a list of teams with more or less popularity and technology levels.
You will start as a "secondary" pilot, and sometimes you will be asked by your team to let your partner, the primary pilot, to finish in front of you.
Depending on your decisions to accept or disobey your team, and the different outcomes (get at first or last place, for example), your relationship with your team and partner will be altered.
These relationships will affect directly on the different random events that might happen between the races.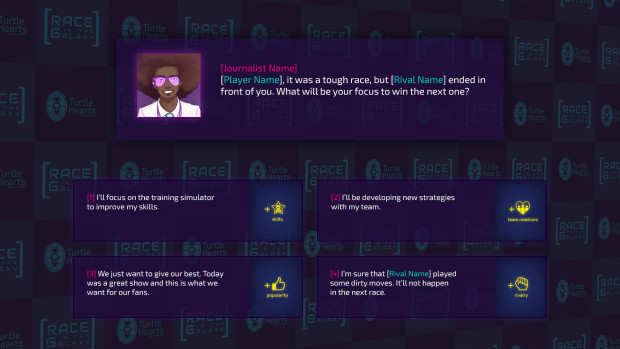 Eventually some other pilot will become your rival. This will be a character that will receive special attention on your interviews with journalists, and it will affect some random events, impacting on your popularity.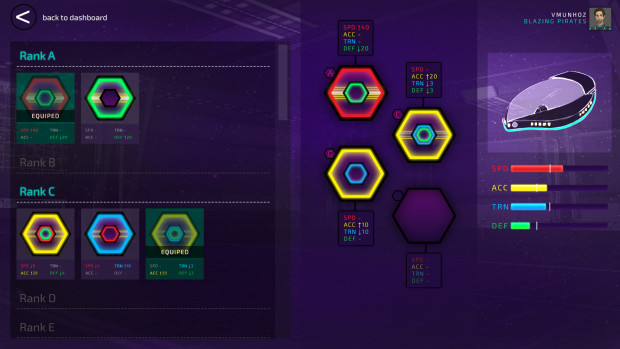 The game has a procedural technology system, and the way you get new techs is by keeping your team popularity high. This represents the money received from sponsors.
In order to gain popularity, you need to win races and stay out of trouble (or not).
Now, inside the cockpit.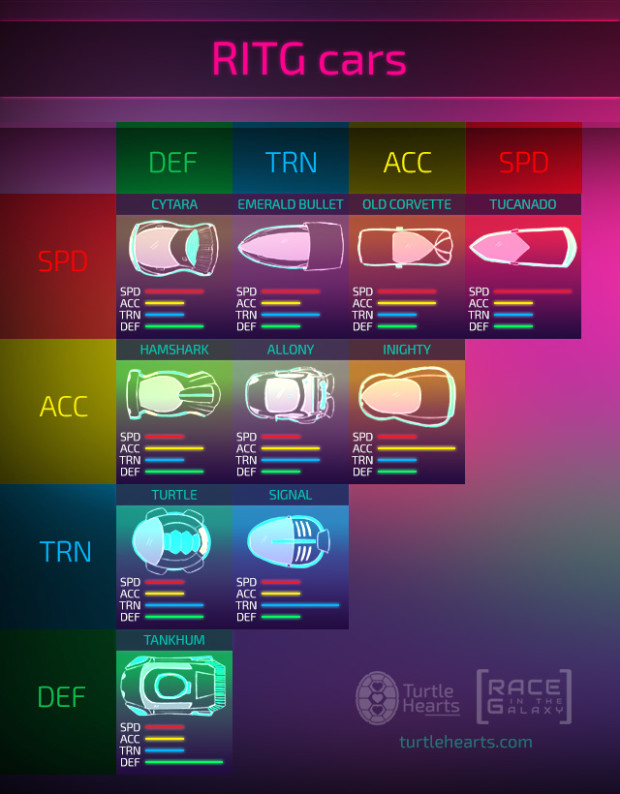 The game will feature 10 different cars, with different attributes.
These attributes are: Speed, Acceleration, Turning and Defense.
Each car will give you a unique way to play the game. You can try to destroy your opponents, keep your advantage on long straights, play carefully trying not to crash... It all depends on your attributes, technology, skills and modifiers.
The way you control your car is different from a normal racing game, because your car is floating on the air. You will have to think in zero gravity. If you stop accelerating and turn your car, it will keep going forward, until you accelerate again. This means that your break/reverse is a backwards impulse.
The game will feature car explosions and pilot deaths. Be careful.
Download
Click download now to get access to the following files:
RITG-Demo-Indiegogo-v2-1.zip
60 MB